Note: You should not expect help when illegally... →
The county commissioners say they won't foot the bill for a crane, and they don't think the helicopter owner's suggestion to have someone rappel from a real chopper and snatch the miniature one off is, well, very realistic or worthwhile.
Will Dummy Cities Be Used to Test Drones in the... →
An interesting idea. Could we include fake mass protests in there?
Tennessee Football Records Practice With a Drone -... →
Fox Sports and ESPN are already using them to cover live cricket matches in Australia. Matter of time, this.
Don't call 'em drones: The wide world of unmanned... →
I say drone, you say drone. "Drone" has come to mean any aerial vehicle that flies without a person actually sitting in it. But there are di…
FAA phone call on domestic drones draws five... →
More from the FAA's privacy call-in.
Callers tell FAA of privacy, safety concerns over...
The FAA held a teleconference today to talk about privacy policies around the six UAV test sites they've yet to announce. Pepperdine University Law Professor Greg McNeal and EPIC Privacy's Amie Stepanovich live tweeted the event with their reactions.  [[MORE]]
6 ways to use domestic drones →
A few missing — ahem — but a good list. Rightly focuses on agriculture as a huge potential user.
Caught between ban and boom, businesses struggling...
By Daniel Wheaton Charles Eide thought he was following all of the rules when he used a drone to take photos of real estate. He wasn't. In early February, the Federal Aviation Administration told him to stop. Eide, along with hundreds of other businesses, are facing the same question: Is it legal to use drones and aerial photography for profit? It isn't. [[MORE]]The FAA says the only way to for a...
The drones are coming ... but our laws aren't... →
The story itself has a decent back-and-forth about if our laws are or aren't ready. It's not so clear cut.
Seven more reasons why journalists should learn to... →
Matthew Schroyer gives a serious answer to yet another snarky blog post about journalists using UAVs to do their work.
Define "drone" →
What exactly is a drone? Is it the $300 toy we have in the lab? Or only military grade hardware? UAV? UAS? RPAS? An excellent piece about the definitional war going on over … that thing without a pilot onboard in the sky.
Drones set for large-scale commercial take-off in... →
Friend of the lab Mark Corcoran reports for Australia's ABC that regulators there have proposed a weight based system that would make it much easier to use the technology legally. For instance, devices less than 2 kilograms (4.4 pounds) could fly "after completing nothing more than an online application form." Also worth noting: Fox Sports is using a UAV to cover Cricket in...
Drone journalism off the ground in Italy →
If your Italian is a little rusty, here's a translation. The key bits that caught our eye: UAVs have already been used on two separate news events in Italy, including the Costa Concordia shipwreck. And it's legal so long as the pilot is licensed.
Reuters: Drones already flying under the radar →
From the story: "Tens of thousands of domestic drones are zipping through U.S. skies, often flouting tight federal restrictions on drone use that require even the police and the military to get special permits." We don't know where they came up with that number — it's nowhere else in the story — but that seems high, unless you count all the hobbyists flying...
Looking at the privacy side of drones →
Ryan Calo of the University of Washington's School of Law lays down the privacy and legal conundrums that appear with UAVs in domestic airspace.
ACLU: 20 states now considering drone laws →
The ACLU is keeping a running tally of states considering drone laws here, including where they are in the process. 
More Missouri concern about drones for journalism →
"If they want to learn about it, that's perfectly fine," said Guernsey, whose district includes parts of four counties in northwest Missouri. "If we are moving into an age of news agencies using drones to collect information on private citizens, I'm definitely concerned about that."
Nebraska committee startled by drone testimony
By Ben Kreimer Aerial drones are fun to fly. And that's a problem in the mind of Nebraska Sen. Paul Schumacher of Columbus. "They're too much fun not to use," said Schumacher, who proposed The Freedom from Unwarranted Surveillance Act, a legislative bill that would prevent drones from landing in the hands of Nebraska law enforcement agencies. The state Legislature's Judiciary Committee warmly...
FAA: Drone rules will include privacy →
"The FAA recognizes that increasing the use of [drones] raises privacy concerns," according a letter the agency sent this week to Marc Rotenberg, president of civil rights group Electronic Privacy Information Center (EPIC). "The agency intends to address these issues through engagement and collaboration with the public."
Wired: Domestic drone industry prepares for big... →
"The FAA rules are very clear about for-compensation and hire. If you're going to operate an aircraft for compensation or hire, there's a different set of rules that apply." — Jim Williams of the Federal Aviation Administration. "Everyone knows the experimental certificate process is available but not actually functional." — Jeremy Novara, owner of Vanilla Aircraft. 
Missouri legislator doesn't much like the idea of... →
"You've got to be kidding me. That's enormously disturbing to hear about," Missouri State Rep. Casey Guernsey said about the University of Missouri's drone journalism program.
The big market for drones? Agriculture →
"Spraying, watering — there's a whole market for precision agriculture, and when you put that cost-benefit together, farmers will buy [drones]."
Hollywood has started (informally) lobbying to use... →
Interesting story about how Hollywood has started poking around the halls of Congress letting them know moviemakers want to use UAVs for making films. Of note in the story: A helicopter in Hollywood cost $1,700 a day, plus another $1,900 for the pilot. 
Update: Nine states looking to restrict UAV use,...
By Daniel Wheaton While the Federal government and the Federal Aviation Administration mull over laws pertaining to domestic drone use, eight nine states have started to take their own action. State legislatures across the country have introduced legislation hindering drone usage. Some simply require police to have a warrant, while others go much further. The Federal Aviation Administration...
Florida TV station uses drone to film demolition,... →
No, really. CBS12 in Palm Beach Florida tried using what looks like a Parrot AR Drone to film the demolition of a shopping mall when, all of a sudden, a swarm of bees starts circling it. You can see it start to wobble, and later bees start landing on it and getting into the shot.  Bees. You have to worry about bees when using a UAV for journalism. Noted.
Celebrities safe from roving paparazzi drones ...... →
But here's the thing. Faster than TMZ could refute the drone accusation, plenty of people had no problem imagining that TMZ wanted one … and a few were maybe a little surprised to learn the ace gossip gathering institution doesn't have a drone over Kanye West even now.
Two entirely predictable developments: Updated!
The FAA is going to miss their first deadline. That's the predictable part. The somewhat surprising part is why: They want to study the privacy impacts of UAVs in the national airspace. Gossip site TMZ wants their own drone. If you are surprised by this, you haven't been paying attention. At least they're following the rules and seeking a permit. Others may not be so...
Hunters shoot activist's drone down for the fourth... →
A common comment on news stories about using UAV's for reporting stories is some form of "I'll just shoot it down" or a question of if you can shoot it down. Well, an animal right's group has lost four UAV's to hunter's fire, including one that crashed on the hunt club's property and is now the subject of a lawsuit. No criminal charges have been...
How we used a drone to cover drought
By Matthew Waite On Monday, we published our first stories using a small unmanned aerial vehicle to report on a record drought happening here in Nebraska. Here's how we did it. [[MORE]]Planning We were approached by the NIMBUS Lab at the University of Nebraska-Lincoln about working together on a story. They have several UAVs and experience flying them in a variety of environments. We...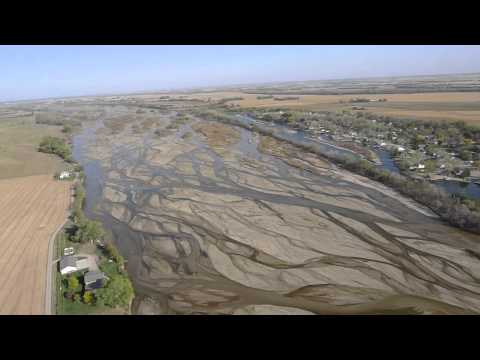 Record drought leads to a critical winter
By Ben Kreimer, Daniel Wheaton, Travis Shafer and Matthew Waite  The story of this summer's drought in Nebraska can be told with numbers that scarcely make sense.  Numbers like the least amount of rain fell on Nebraska soil this summer since records were kept starting in 1895. Less than the Dust Bowl droughts of the 1930s. Every inch of ground in the state was at severe drought...
Watch
Drone Lab founder Matt Waite talks about drones and other technologies as means to build a future reporter at Scoopcamp in Hamburg, Germany on September 20th.
Watch
Drone Lab student researcher Ben Kreimer talks drones at the Online News Association conference in San Francisco on September 21.
Drones are the future. And we're really not ready... →
A funny, if revelatory, post about how the FAA shut down a for-fun Parrot AR Drone shootout in Washington DC.
BBC News Night on drones in the UK →
If you follow drones in the US, this will all sound very familiar. Privacy worries, communities competing to be the drone capital of wherever, laws opening the skies coming but not yet here …
Drones, Privacy and the Future of Photojournalism →
"Lawsuits and public apprehension over new technology is nothing new. The drone might well be considered a new version of the Kodak Brownie, which in 1884 caused no end of concern when it allowed anyone to take photographs in public places rather than in the seclusion of the studio." - Mickey Osterreicher, photojournalist and General Counsel for the National Press Photographers...
Here Come the Flying News Robots →
Drone lab founder Matt Waite writing in The Tyee on drone journalism. Of note: most of the comments are about shooting down drones with guns, paintballs, ball bearings, etc.
Disaster drones: How robot teams can help in a... →
It's not hard to envision how this could work for news too.
AUVSI's Unmanned Aircraft System Operations... →
The Association for Unmanned Vehicle Systems International released a code of conduct today. The short version? Be safe, follow the rules, respect others. You should read it for yourself. It's short and to the point. As with most things, the devil is in the details. What does "properly trained" pilots mean? What standard of privacy are we respecting? Of course, these things will...
We're entering the Drone Age →
What are all these amateurs doing with their drones? Like the early personal computers, the main use at this point is experimentation—simple, geeky fun. But as personal drones become more sophisticated and reliable, practical applications are emerging.
Drone Lab receives Knight Foundation 'prototype'... →
The Knight Foundation announced today that UNL's Drone Journalism Lab is one of the first to receive a new type of grant from the organization called a prototype grant. Announced at the Knight-MIT Civic Media Conference in Boston, the $50,000 grant will be used to test drones for reporting as well as research into the ethics of using unmanned aerial vehicles for news. Follow the link for...
10 drone myths busted →
Much to think about here. I'm guilty of thinking and talking about a few the wrong way. There's room to quibble with a few, but well worth the read.
FAA reaches the first drone deadline of 2012 →
Lots of information for a short release, but the big one in my view: First responders can now get a temporary certificate of operation for testing and evaluation quickly, and a operational certificate when they show proficiency.
Fast Company: Why Flying Drones Are The Future Of... →
Fast Company interviewed lab founder Matt Waite and College of Journalism and Mass Communication's Dean Gary Kebbel about what we're up to here on the Great Plains.
EFF: FAA Releases Lists of Drone Certificates—Many... →
EFF gets the list of agencies that have special FAA permits to fly UAVs. Also interesting is this pie chart from The Atlantic. 
So, just what is a drone, anyway? →
Is that thing you or I call a drone really a drone? The answer isn't as easy as you think. (And, for the record, nothing in the Drone Journalism Lab right now is a drone)
1 tag
Meet the Drone Lab's student researchers
Recently, the Drone Journalism Lab at the University of Nebraska-Lincoln's College of Journalism and Mass Communications was fortunate to have three students receive Undergraduate Creative Activities and Research Experiences grants for the 2012-2013 school year. The students are going to be involved in all aspects of the lab, from researching ethics to building platforms. Here's who...
2 tags
Journalists, write this date down: May 14, 2012
Under the FAA Modernization and and Reform Act of 2012, the FAA must expedite giving public agencies permits to fly UAVs under specific conditions by May 14, 2012. That's just a little more than a month from now. In government terms, that's really, really fast.  Do you cover a law enforcement agency? If I did, I'd start asking around now. Warm up the public records requests. Is...
"That thing is a flying lawn mower."
– Chris Anderson, Editor in Chief of Wired Magazine and founder of DIY Drones, on the dangers of multi-copters. Remember this next time you think we're close to flying a multi-copter over a crowd of people or using them to deliver food. To get the horsepower to lift a camera or a tasty treat,...